Three steps to find good EMDR Therapy and Three questions you must ask to find a good EMDR Therapist.
Are you seeking effective EMDR therapy for yourself or a loved one? As a seasoned Accredited EMDR Practitioner, I understand the importance of finding a skilled therapist who can make a difference. Here are three essential steps to locate a proficient EMDR therapist and three crucial questions to ask during the selection process.
Don't Rely on Google Reviews for Choosing a Psychologist
When it comes to choosing a psychologist, Google reviews are not the most reliable source of information. This is because regulations from the Australian Health Practitioner Regulation Agency (AHPRA) prevent clinical psychologists and psychologists from having reviews. AHPRA oversees various healthcare professionals like GPs, clinical psychologists, and psychologists to ensure their competence and safety in practice. Their role is to verify the authenticity of medical practitioners.
Google reviews, according to AHPRA, are considered as unlawful advertising. If you come across a psychologist with more than two of accidental reviews, it could indicate that they might not be accredited, registered, and hence, might not offer you the level of protection you need.
Watch Out for Titles: Therapist vs. Psychologist
It's important to be cautious about titles when seeking help. Anyone can label themselves as a therapist, counselor, or psychotherapist, which might not guarantee their qualifications. However, using the titles "psychologist" or "clinical psychologist" is restricted and regulated by AHPRA. These titles are reserved for those who have undergone proper training and accreditation, assuring a certain level of expertise.
Three steps to find a good EMDR therapist.
Step 1 : Navigate EMDRAA's Accredited Database.
Begin your journey by accessing the EMDRAA Find a Therapist tool, a trusted resource backed by the EMDR Association of Australia. The site's load time might test your patience, but it's a goldmine for identifying qualified professionals.
Goto EMDRAA Find a Therapist   and click Accept Terms
Step 2: Pinpoint Your Search
Enter your postcode and, if necessary, repeat the same search three times. Pay attention to the little blue labels, which indicate how close they are to you.
IF NO RESULT – TRY SAME SEARCH AGAIN!  You must select one of the drop down options otherwise no result.


The resulting list will start with the Accredited Trainers/Consultants/Practitioners (most experienced) and then Members within the radius you specified
(Look at the little blue labels

). Scroll down to find someone close to you.
Step 3 – Assess Availability, Experience and Medicare Rebates

Check 1. Availability – Are they Accepting new clients?
Practitioners that are not accepting new clients may have a wait-list, ask to be put on it
Check 2.  Experience – Are they an Accredited Practitioner or an Accredited Consultant?  
If they are a Member – do some more research (see below) as there is no guarantee of experience.

3. Medicare Rebates – Do they offer a Medicare Rebate? This means that your practitioner is regulated by the AHPRA. To receive a rebate, you must be referred by your GP or psychiatrist with a referral letter and Mental Health Plan. Rebates in 2023 for a 50+ minute session are – Clinical Psychologist  ($136.35),  Psychologist ($92.90) see MBS Online .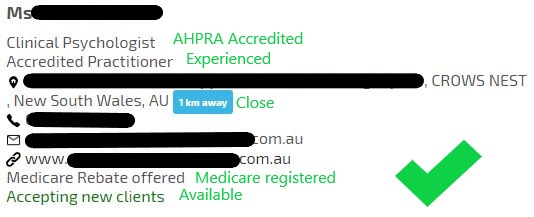 The 3 questions you must ask to find a good EMDR therapist
Some EMDRAA Members are highly experienced, others do the training and rarely use it and its hard to know the difference. Try this.
Therapeutic Approach – Call them up and ask them what therapeutic approach (modalities) they mainly practice. (Don't specifically ask if they practice EMDR, By avoiding direct mentions of EMDR, you'll gauge the extent to which they rely on this powerful technique.)
EMDR Utilization – Ask them how often they use EMDR. I use it in 90% of my sessions each day.
EMDR 2.0 Proficiency – Ask them if they have trained in EMDR 2.0?  This is using the latest techniques and clients report that it can be more energising and fun
There are 3 grades of EMDR experience.
In Australia, EMDR therapists are graded by the EMDR Association of Australia (EMDRAA) according to there training and experience.
EMDR Member (Basic):
This level signifies foundational EMDR training. While a starting point, further accreditations showcase heightened expertise.
EMDR Accredited Practitioner (Advanced):
A practitioner at this level goes beyond basics, boasting additional supervision and experience. They would have treated a substantial number of clients  and undergone rigorous evaluation.
Accredited Consultant (Exemplary):
These practitioners are Accredited Practitioners while also possessing the experience and skills necessary to provide supervision to fellow therapists.
Finding the right EMDR therapist is a vital step toward healing and growth. Use these steps and questions as your compass, to find the best EMDR therapist who can truly make a difference.
I look forward to hearing from you.
Kind regards,

Desne Doman
Clinical Psychologist MAPS
EMDR Accredited Practitioner.